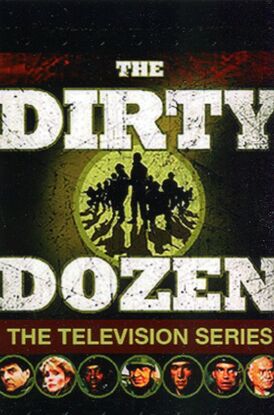 The Dirty Dozen, was a short lived series that had thirteen episodes produced though Fox cancelled the broadcasting of the show after only seven episodes were shown.
Lt. Danko recruits a new Dirty Dozen to destroy a German radar installation located inside a hospital.
The team go on a mission to Yugoslavia to destroy a Mine that is important to the German war effort.
3 Colonel Mustard in the Library with a Luger
The Dozen, disguised as high-ranking officers, are the bait for a group of enemy assassins.
A German spy joins the Dozen on a mission to blow up a dam.
5 A Quiet Weekend in the Country
The Dozen are sent on leave to an island off the coast of Scotland, just as German paratroopers land on it, hoping to kidnap General Eisenhower.
6 Charge of the Dozen
7 The Dirtiest Show on Earth
On a mission to assassinate high-ranking Nazi officers, the Dozen join a circus.
The lads much liberate a French town which is occupied by the Germans. Whilst there Danko is reunited with his former sweetheart, but finds that she too has been sleeping with the enemy.
It's 1943, and an English Captain caught robbing a safe is sent to join the dozen on a mission to Denmark, to blow up a laboratory protected by solid steel and try to save some Danish prisoners.
Lisbon, Portugal 1943. The Dozen must pose as mafia mobsters and use their inside knowledge of forgery, in order to stop a counterfeit money operation which is funding the Nazis.
Paris, 1943. The Dozen must rescue a brave radio broadcaster who has been performing shows in drag for the Nazis whilst secretly sending messages to the allies. Caught by the Gestapo, they had begun forcing him to instead broadcast their propaganda in exchange for his baby daughter's life.
Cast & Characters
Edit
Ben Murphy as Lt. Dan Danko
John Bradley as Johnny Farrell
John D'Aquino as Jean Lebec
Mike Jolly as Vern Beauboff
Frank Martin as General Worth
John Slattery as Dylan Leeds
Jon Tenney as Janosz Feke
Barry Cullison as Sgt. Bobby Cutter
Glenn Withrow as Roy Beauboff
Benedict Taylor as Captain/Hyde-White
Aldo Toncic as Dirty Dozen/Guard/German #1
Vjenceslv Kapural as Doucette/Major Chirac
Boris Gregoric as German Officer/Guard #2
Pavle Balenovic as Dirty Dozen/Guard
Darko Janes as Heckler/Lt. Mueller
Ivo Kritof as Bela/Fat Lt. Colonel
Ljubo Zecevic as Heckler/Sergeant
Milan Plecas as Guard/Paris Cop #1
Dusko Valentic as Paul/Schmidt
Budimar Sobat as German #2/Stein
Lanny Flaherty as
Peter Dennis as Mickels/Montgomery
Erich Hallhuber as Von Reumann
Sue-Ann Leeds as Michelle
Wookie Mayer as Marina
Daniel Roebuck as Irwin Moskowitz
Raymond Serra as Lucky Fontana
Ted Shacelford as Cpl.Helmut Pendl
Big John Studd as Petite Pierre
Peter Whitman as Fou-Fou/Marcel
Manfred Andrae as Victor
Richard Borg as Hedges/Hendricks
Bruno Dietrich as Damrosch
Wolf Kahler as Col.Richter
Mario Kovac as Claude
Frano Lasic as Col.Steinmetz
Garfield Morgan as Von Krump
Anthony Pedley as Karoly
Pat Skipper as Kale Brody
Aaron Swartz as Bobby
Julia Biedermann as Ilse
Demeter Bitenc as Von Kleist
Michael DeLorenzo as Paco Fuentes
Xabier Elorriaga as Henri
Ronnie Janot as Lieutenant
Wolfe Morris as Grimaldi
Claus-Peter Seifert as Hauptmann
Zeljko Senecic as Jacques
Amadeus August as Bruner
Rene Bitorajac as Marko
Rudolf Waldemar Brem as Kleindorff
Jamie Koss as
Damir Saban as Guard #1
Dieter Steinbrink as Zwickert
Kevin Stoney as Stupple
Richard Butler as Clinton
Slobodan Dimitrijevic as Feldstadt
Ian McShane as Lindberger
Hrvoje Vesligaj as Jean-Pierre
James Villiers as Lord Welboume
Damir Andrei as Captain
Marko Belinic as Juris
Bob Hoy as Alex
Horst Janson as Karl Jensen
Igor Mirkovic as Lieutenant
Ratko Buljan as Priest
Mladen Pticar as Dirty Dozen
Shane Rimmer as Biddle
Andre Sportelli as Chris Erikson
James Wakely as Major
Zelimir Ciglar as Schleffen
Gerry Crampton as Mueller
Eileen Page as Lady Welbourne
Ditte Schupp as Gretta
Suzanne Andres as Ilse
Robert Daws as Mitchell
Zoran Drages as Waiter
Predrag Sikimic as SS Sergeant
Alexander Cvetkovic as Sentry
Josipa Lisac as Songstress
Zarko Savic as Vladek
Chris Thinnes as Andrews
Nikola Malobabic as Dealer
Peter Slattery as Miller
Bozidar Smiljanic as Maitre D'
Domagoj Vukusic as German Major
Bon Lensky as Rolf
Edo Perocevic as Cabbie
Sinisa Juricic as Guard
Igor Samobor as Young Man
Josip Ticic as Harkins
Luka Borikic as Alain
Vida Jerman as Townswoman #1
Bozidarka Frajt as Townswoman #2
Andrea Saric as Townswoman #3
Bonita Korf as French Girl
Hrvoje Klobucar as Teenager
Etta Bortolazzi as Old Woman
Darko Bujas as Comm Operator
Bruce Boa as General Bantom
Fred Bryant as Club Owner
Aleksander Cvjetkovic as Guard
Gabriella D'Olive as Sister Theresa
Steven J. Evans as Staffer #1
Rob Freeman as Captain
Paul Glawion as Standartenfuhrer(Colonel) Zeller
Michael Godley as General Stafford
Zoran Gigic as Commander
John Golightly as Andrews
Constantine Gregory as Father Lormand
Richard Howard as Dentist
Edin Husakovic as Dirty Dozen #11
Ilija Ivezic as Father Luca
Mark Jeffrey as Constable
Slavko Juraga as Obersturmfuhrer(1st Lieutenant) Steiner
Gordan Klaric as Dirty Dozen #12
Zeljko Loncar as Dirty Dozen #10
Philip Nola as German Soldier
Zvonimir Novosel as Sergeant
Julije Perlaki as Cook
Peda Petrovic as Ambulance Driver
Hrvoje Petrusic as Squad Leader
Chris Pitt as Mess Boy
Manning Redwood as Col. Merryhew
Frank Roth as Krauss
Boris Svrtan as Radio Man
Maitland Thornton as Div.Commander #1
 ????? as Dana Jankowski
 ????? as Sergeant Roberts
 ????? as Sergeant Butts
Trending pages
All items (16)